Development southern zone
Over the past 20 years, excessive, uncontrolled and often illegal road and terrace construction have led to extensive environmental damage and loss of wildlife habitat in the mountainous area between Dominical and Palmar Norte, the fila costeña. This high biodiversity area is part of the Path of the Tapir Biological Corridor between the Savegre and Terraba rivers identified in 2000 by Asociación Amigos de la Naturaleza del Pacífico Central y Sur (ASANA - http://www.asana.co.cr) and The Nature Conservancy (TNC - http://www.nature.org/wherewework/centralamerica/costarica).
In 2007 the Municipality of Osa finally started to take steps to reduce and control earthmoving and road construction works. New detailed regulations for construction permits were published, see Reglamento_Osa.rtf
In 2008 and 2009 the Environmental Court of the Ministry of Environment, the Tribunal Ambiental Adminstrativo, stepped in and closed down 33 construction projects in the Fila Costeña for violation of environmental legislation. See the website of TAA: www.tribunalambiental.go.cr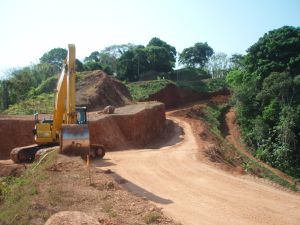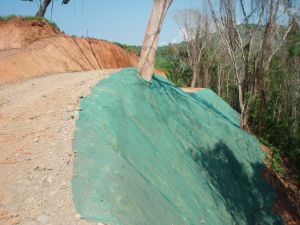 Unscrupulous developers don't give up easily: in 2011 Canadian developer Olsthoorn presented his 6 stories high 56 condominiums mega VISTA BAHIA project right in the middle of an environmentally sensitive area above Dominicalito. Early 2014 after two years of legal action, EALA has succesfully stopped the project as it would destroy the forest, scare away remaining populations of howler monkeys and other fauna and threaten scarce water resources for the communities in the area. The project is located right in the biological corridor "Paso de la Danta". Information from Canada has shown that the developer intended to build 86 (!) apartments at prices up to $ 1,1 million, in stead of the 56 condominiums reported to the enviromental authority SETENA.
In August 2014, the wife of the developer Martha van Eden-Olsthoorn has resubmitted an application for an environmental permit, the so-called viabiliadad ambiental. EALA has immediately presented an extensive appeal and the new application will continue to be opposed with equal force as in the first round. In August 2015, EALA presented its objections in a hearing of the Comisión Plenaria of SETENA. Since May 2016, SETENA awaits a report by ACOSA, the environmental authority of the Osa region.