Mountain crabs near Dominical
Jointly with APREFLOFAS, Costa Rica's leading ngo for fauna conservation (www.apreflofas.or.cr), EALA organised in 2003 a campaign for the protection of mountain crabs (Gecarcinus quadratus) near Dominical, Puntarenas. Sadly, the mountain crabs colony will probably be virtually extinct in a few years.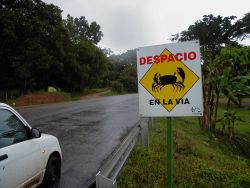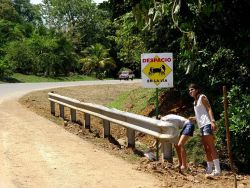 Sadly, these crabs are being killed by the thousands on the new coastal road from Dominical to Palmar Norte when they migrate to the sea to lay their eggs. EALA intends to repeat the campaign to increase awareness for truck drivers but equally for the largely foreign, in particular US residents and visitors of the Dominical area.