Airport planned in southern zone
(update February 2019)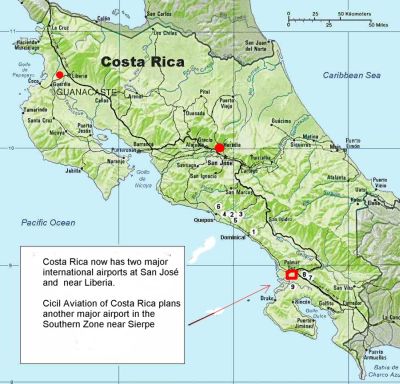 In 2004 the Government of then President Oscar Arias Sánchez decided that it wished to build a new airport in the southern zone, near Sierpe south of Cortès. An area of 1500 hectares (6 kilometers by 2,5 kilometers) was considered, substantially larger than the airport Juan Santamaría of San José and the majority of other latin american airports. Extensive studies were commenced on winds, meteorology, soil, impact on fauna, archeology, seismology, sound hindrance, etc..
In 2009 the Ministry of Transport approved the Airport Master Plan prepared by the International Organisation for Civil Aviation and asked President Oscar Arias to issue a Declaration of Public Interest which would allow for the purchase of land for the new airport. Meanwhile, in June 2007, one farm nr 10 of 267 hectares (of the four farms nr 8, 9, 10 and 11 to be made available) had already been transferred to Civil Aviation.
In February 2010, EALA and a group of other costarican NGO's asked President Oscar Arias not to issue the Declaration of Public Interest and leave it to the new Government which took office in May, 2010 to re-assess the need for the airport. In September 2010 the Directorate of Civil Aviation agreed to these requests but unfortunately on 16 October, 2010 President Laura Chinchilla isued the Declaration of Public Interest declaring the project of national convenience and in the public interest.
In 2013, an Environmental Impact Study of 2000 pages was produced. Since then, it became quiet around the plan. Subsequently, the Solis Government started making plans for another major airport near the town Orotina.
Fortunately, after taking office in August 2018 the current President Carlos Alvarado has declared not to give the plan for another airport in Costa Rica any priority.
Herewith an artist design of the planned Orotina airport: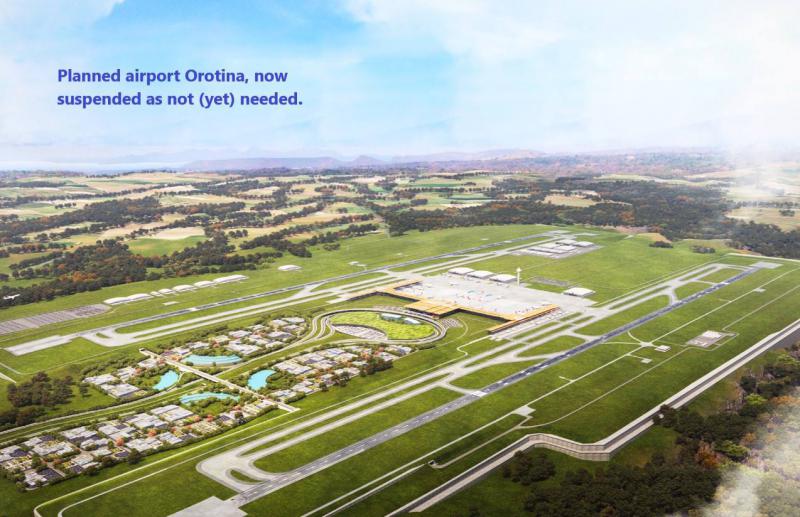 For the following reasons EALA questioned the airport planned in 2012 in Sierpe:
In the first place, there seemed to be no need and no commercial justification for an additional airport in the southern zone. There are already several small local airports which can handle domestic air traffic. The present tourist facilities in the area are unique of small scale. Visiting tourists want no massive tourism with large hotels as in Guanacaste. For commerce (pineapple, palm oil) or industry, airtransport is not required. Access by road to the southern zone has been subsantially improved: highway no. 27 San José - Caldera and the last 45 kilometers of the coastal highway between Quepos and Dominical have been completed. The Airport Master Plan drawn up by the International Organization for Civil Aviation which is pushing for this project, has largely been based on pre-recession data.

no funds available for building an extremely costly new international airport. Opponents of the airport argue that the Government better use its scarce resources for the Southern Zone to invest in educational centres, more university faculties, better bus services, improvement of bridges and other infrastructure, etc. Various smaller scale projects could be a better help for the development of the Southern Zone.

A new airport would have no benefit for the local Costa Rican inhabitants. This has also not happened with the airport of Liberia: some of the former Costa Rican landowners are now gardeners and watchmen in luxury foreign-owned hotels. Prices of land will increase further and primarily foreign investors and foreign owned real estate agencies will benefit.

A new airport with resulting high concentrations of CO2 emissions conflicts with internationally needed action against climate change.

Aircraft landings and taking off, refuelling, and kerosene storage will cause NO2PM) and Ozone (O3) emissions and hence form a significant threat to human health. Kerosene smells will be noted in the surrounding areas.
For air quality around airports see: Air_quality_around_airports.pdf and for aircraft noise around airports Aircraft_noise_around_airports.pdf.

Any airplane taking off from an airport will reach an altitude of 1.400 meters after 15 kilometers. The noise on the ground there will be the same as at 10 meters distance from a busy motor highway.

A new airport with its consequent noise and air pollution may cause serious disturbance and harm to the fauna of the nearby Ramsar Convention Wetland Térraba Sierpe, the forest areas of the so-called Fila Costeña and the Osa Peninsula in particular the Corcovado and Piedras Blancas National Parks, the Golfo Dulce Forest Reserve, and other nearby protected private natural areas.

Birds such as scarlet macaws, king vultures, fregate birds and mammals such as jaguar, ocelot, tapir, peccaries, howler monkeys cannot share their habitat with the hindrance zone of an international airport and its related infrastructure. Consequently, also tourism in the area will be affected and reduced in numbers.

Any airport will have an extensive infrastructure:
passenger terminals, office buildings for airport officials, police, customs, fire brigade, kerosene storage tanks, a radar tower, cargo warehouses, bus terminals, parking areas, dual access roads, high and illuminated bill boards, hotels, offices for car rental agencies, etc..

A new international airport with its noise and light hindrance near the coast would adversely affect migrating whales, sea turtles and other marine life in the coastal sea and nearby mangroves;

The Sierpe location is not suitable as it lies low and is subject to flooding. Extensive and environmentally very damaging gravel extractions from nearby rivers such as Rio Rincon would have been necessary to raise the ground level. A canal needed to be relocated and bridges built.
---
In April 2010 the Center for Responsible Travel (CREST) in Washington, U.S.A. published a comprehensive report "Impact of Tourism Related Development on the Pacific Coast of Costa Rica" which supported our criticism of the airport plans:
" A number of experts argue that a better strategy is to upgrade Palmar Sur for expanded domestic and regional flights, rather than international carriers, to help strengthen nature and culture based ecotourism in the Osa Peninsula. Our study found that this latter style of tourism has provided the greatest benefits to Costa Rican communities and to the environment, and was largely sacrificed in the Guanacaste development experiment."
The second of Ten Policy Recommendations of the report states:
" 2. Abandon plans for another international airport and instead upgrade Palmar Sur as a regional airport, while providing investment and incentives to support nature-based ecotourism."